Creativity in times of crisis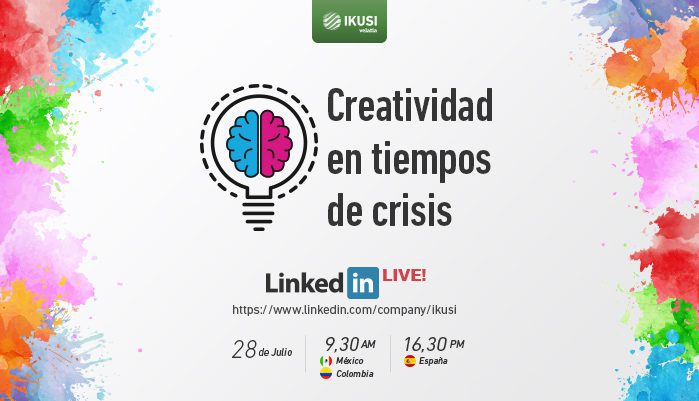 The Covid-19 crisis has disrupted organizations. Overnight, we found ourselves with a radically different scenario to the one that needed to be responded to.
We have had to face multiple challenges. The main one was to maintain the continuity of our own business and those of our clients, while guaranteeing the health and safety of people.
We have had to make decisions and deploy initiatives in a matter of hours or days. And we have been able to do so. Many creative ideas have emerged, in multiple areas of Ikusi, and we want to share them.
That is why, next Tuesday July 28th at 09.30, Mexico and Colombia time, and 16.30, Spain time, we have organized a LinkedIn Live event called "Creativity in times of crisis".
During 30 minutes we will discover with four women of our organization the actions that Ikusi has started in this crisis to give a fast, effective and close response to the needs of their customers.
This panel will be formed by:
Isabel Prieto: Presales Engineer in Aryse (Spain).
Marisol Barajas: Financial Director at Ikusi (Colombia).
Aurea Alarcón: Organizational Development Manager at Ikusi (CDMX, Mexico).
Elizabeth Guzmán: Marketing and Communication Manager at Ikusi in Latin America (Monterrey, Mexico).
For more information register here