Beyond the specific actions against the coronavirus: when "spending" can become an investment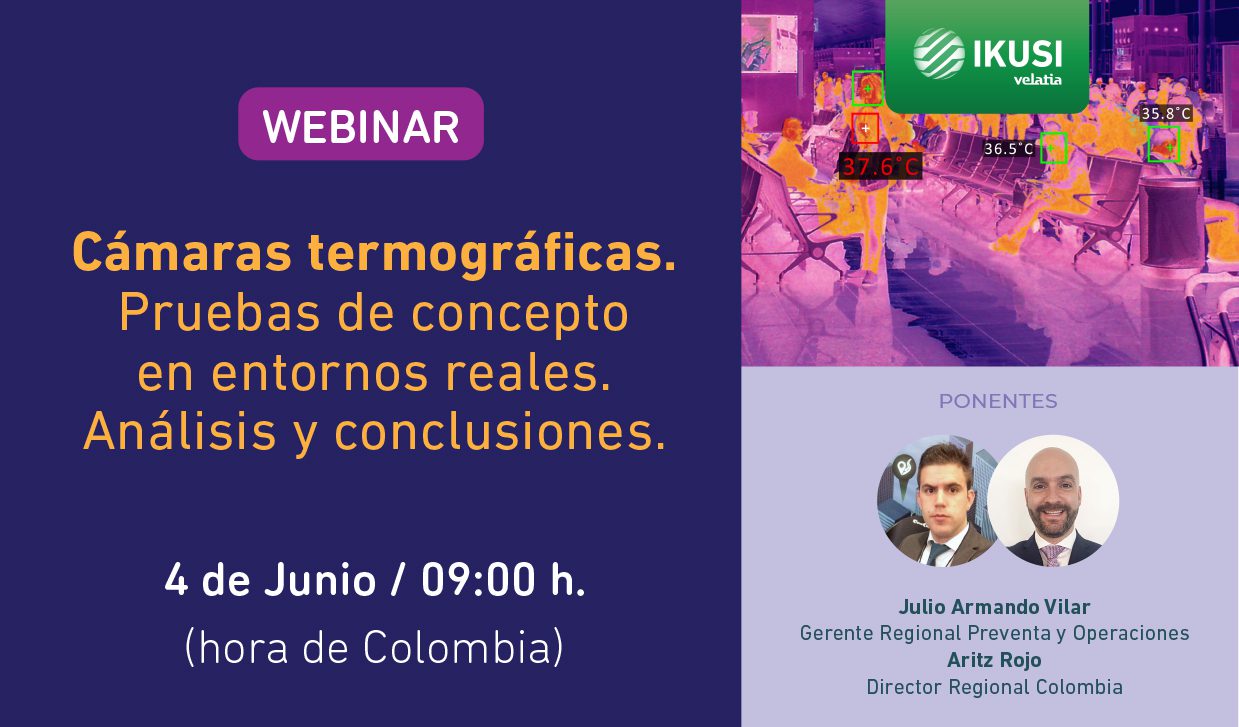 Colombia, like many Latin American countries, is below in the number of deaths and infections that are occurring in other areas of the planet due to the COVID-19 pandemic. They have known weeks in advance what is happening in other regions and are able to implement solutions against the coronavirus in a less emergency situation.
We have talked with Aritz Rojo, Country Manager of Ikusi in Colombia, about the technological security solutions and services that Ikusi has made available to companies and administrations in Colombia, Panama and Ecuador, to deal with the coronavirus.
What is the proposal of Ikusi in your region for the prevention of the coronavirus?
Before detailing the specific offer of technological security solutions and services that we are proposing to the market, I would like to point out the added value of Ikusi, a company with more than 40 years of experience in the field of security, goes far beyond the specific technological proposals.
At Ikusi, we have the experience and capacity to know and understand the needs and problems of each client and each sector. I want to emphasize the differential value of companies like Ikusi that add to the concrete technological proposals to prevent the coronavirus a layer of previous advice, consultancy, engineering, and integration that allows us to obtain the maximum effectiveness of the solutions that are going to be implemented.
At Ikusi, they began to put together their proposal for the COVID-19 in mid-March, when the pandemic in LATAM was very incipient.
Indeed. We have been working on our proposal for two months and have had time to test it, carrying out proofs of concept in real situations, and to contrast our proposal with clients from different sectors, so that we have been able to adapt it, improve it and put the experiences in our current technological proposal to good use. Likewise, we have been able to add the experiences carried out by our colleagues at Ikusi in Spain and Mexico.
Temperature measurement is considered one of the main safety measures.
This is so. At Ikusi we propose different solutions for the early detection and prevention of the spread of the coronavirus. One of the most common is thermographic cameras to measure temperature in an automated way, avoiding contact, and being able to detect potential people with excess temperature.
But it is not enough just to deploy cameras, whether fixed or portable. The important thing is to know how these cameras work in different conditions and environments to ensure maximum efficiency.
We are following the same philosophy with the rest of the solutions that we are incorporating to our portfolio to achieve early detection of the virus and avoid its expansion. We have also included solutions from manufacturers that provide us with pole-mounted infrared temperature measurement systems. A manual solution at a lower cost, which also allows automating the temperature measurement and that, in case someone who wants to access the facilities exceeds the allowed temperature, generates an alarm.
We also have proposals that incorporate the possibility of temperature measurement to the traditional metal detectors used in multiple infrastructures. Solution, which we can qualify as classic and already implement in airports and other infrastructures in Ikusi, which is the measurement of capacity to avoid crowding. This solution can help to ensure social distancing and that our customers control spaces in large agglomerations, such as airports, government buildings, police stations, bus stations, fairgrounds, shopping centers, supermarkets…
How is the market receiving these proposals?
At Ikusi we are offering a response to an emergency situation that is to guarantee the safety and health of people with solutions that will prevent the early detection and spread of the pandemic.
We are contrasting the proposal with the clients, besides understanding their needs, we are warning the importance of showing them that these investments they are making at this moment to prevent the coronavirus are just that, investments, and not a simple expense.
It`s up to us, to show them how these solutions can incorporate other functionalities, also necessary for their day to day. For example, in a secure environment, through the cameras, they have acquired they could incorporate tomorrow a facial identification functionality. So that it not only detects and measures the temperature of people but also allows them to be identified and we can provide additional value to the investment made. The investments that are being made can be perfectly valid for a post-covid scenario and it is our responsibility, as technological advisors, to put this situation to good use.
Will that be one of the messages relayed to customers at the webinar on June 4?
We hope they reach that conclusion. Therefore, we have organized a very, very practical seminar with real case videos so that they can see how our solutions work and how simple they are to deploy. I encourage everyone interested to sign up and participate.
Register here