Diego González de Viñaspre. Maintenance Technician for the Vitoria Tram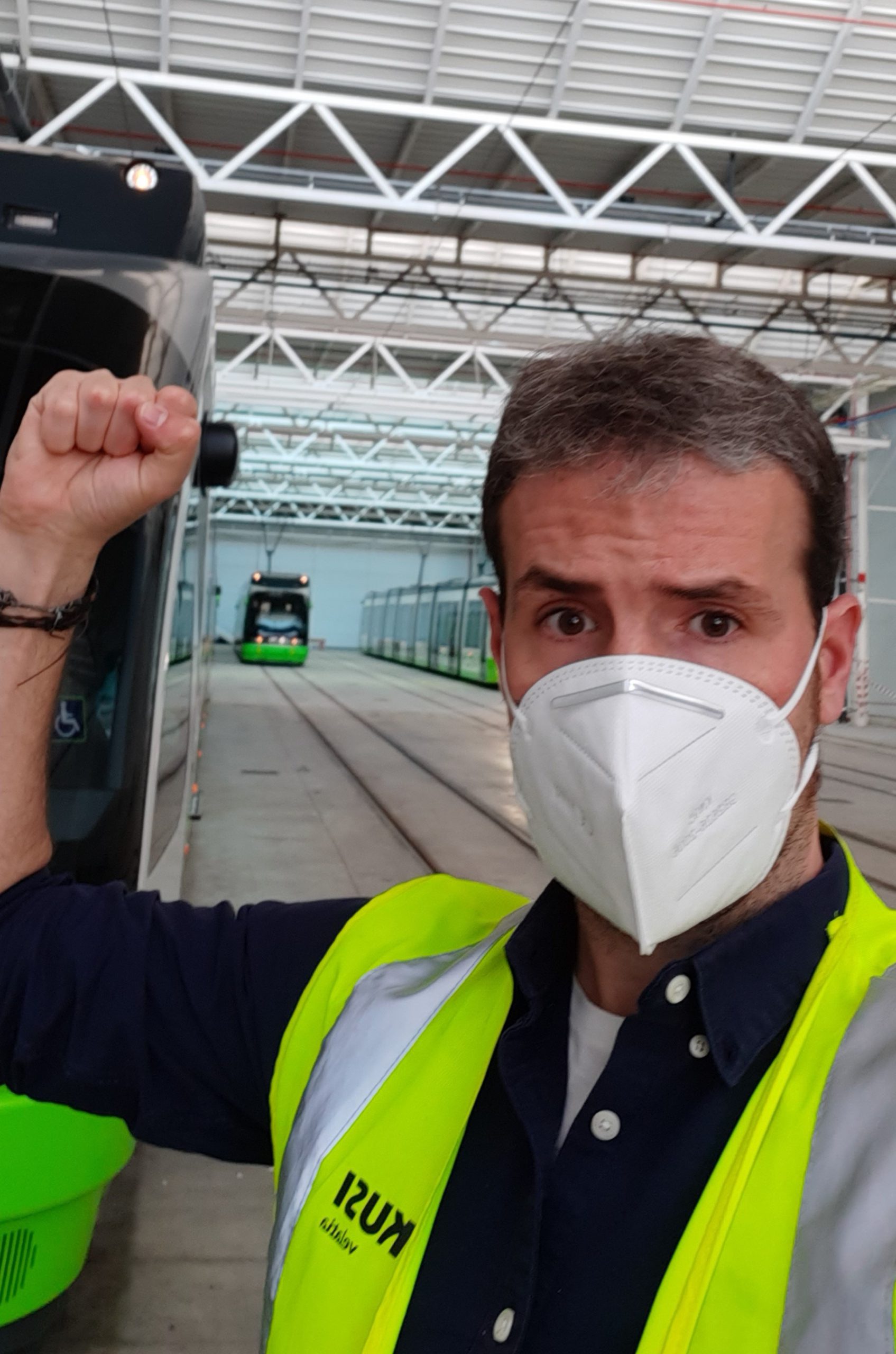 The Vitoria tram entered into service on 23 December 2008, Supported by various Ikusi solutions such as the communications system, ticketing system and onboard equipment for operational support.. Diego González de Viñaspre joined the tram maintenance tasks in 2015. He continues to work with his colleague David Romero.
Ikusi's relationship with the Vitoria Tramway goes back 12 years. How do you gain the customer's trust?
In this maintenance project, we work very closely with the customer. We have an office and a warehouse in the tramway's facilities. And we always work from there both with our computer equipment and with the customer's equipment. We have a very close and above all very fluid treatment.
What kind of maintenance work do you carry out?
We take care of the maintenance of the ticketing system and communications. Communications include Communications Network, Intercom, Fiber Optic Supervision, Telephony, Radio Communications, Travel Information System with Dolphin CIS solution, PDH Network, Command Post equipment. We manage the incidents, if necessary moving physically, performing corrective, preventive, and remote maintenance both hardware and software. As we have different systems to maintain the incidents makes every day different.
How have you organized to continue providing maintenance service in this time of health crisis?
As I was saying, the day-to-day is changing, so have the last few months. On 15 February, the extension of the Vitoria Tramway was inaugurated and only a month later the pandemic was declared. The frequency of the tram and the users have been reduced notably, but the maintenance service has to continue. Transport is essential.
Now, for health and safety reasons, we are teleworking. We do as much work remotely as possible. But, if an incident arises that needs to be fixed on site, we move. It is a matter of being as little exposed as possible.
How are you maintaining that closeness to the client that you mentioned in this new situation?
Our main objective is to give a fast and quality service to the incidents that occur on a daily basis. The tram has to be operational and at this moment, even more, we have to be able to anticipate possible problems that may arise. From our equipment, we can monitor all the systems and, in addition, we are supported by the TOC, engineering, administration and, of course, the project manager team. Thus, we can guarantee that we provide a good service to the tram and to our end customers, which are Euskotren and Eusko Trenbide Sarea.