Interview with José Julian Guerra y Fernando Velayos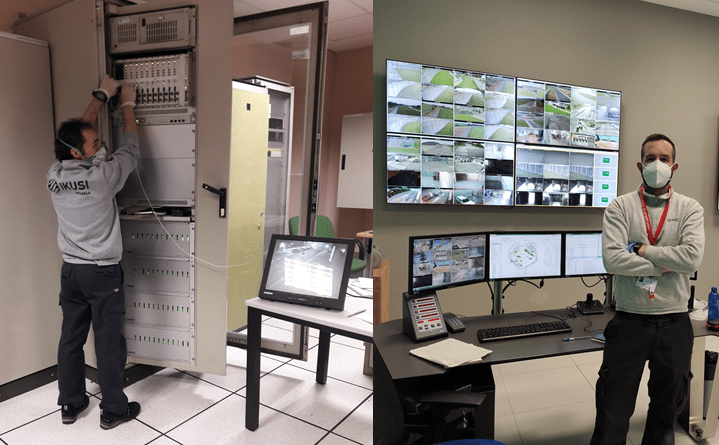 José Julián Guerra and Fernando Velayos are field technicians. Both have a wide experience, more than 10 years, and both work in the same project, although from different geographical locations, to provide service to the Basque Government in a security project. They are on a day-to-day basis, attending to the needs of the client 24 hours a day, 7 days a week.
How would you describe your role?
As field technicians our main tasks are incident resolution, extensions and preventive maintenance of various systems. On one hand, we carry out preventive and corrective maintenance of security systems such as access control, CCTV, intrusion systems, fire detection and extinction, intercom system…
All these systems integrated into Armadillo management software of Ikusi. On the other hand, we carry out the technological renovation replacing older security systems with Ikusi's software and updated security systems.
Both of you work in a coordinated way, but from different work centers…
This project covers the entire Basque Autonomous Community. To provide service to the whole territory we have a technical team composed of 6 people in Bizkaia and 3 in Gipuzkoa among hardware technicians (us), software technicians, engineering, logistics, project manager and sales.
All the people who work on this project know perfectly our mission and the work we have to do. In this sense we are very autonomous, we have been working together for many years for this client.
We are on call 24 hours a day, 7 days a week, and we alternate weekly to attend to the entire territory.
The work of the field technician is face-to-face
That's right. With few exceptions, our work is face-to-face. We travel to the site of the breakdown and resolve it in the shortest possible time. It should be noted that the times of action are very fast. We arrive at the place of the incident in a maximum time of two or three hours.
What is the most important aspect of your work when it comes to meeting the needs of the client?
Without a doubt, communication. From the moment we are informed of a normally corrective action, and regardless of the state it is in, the client must be informed at all times.
It is very important that the client continues to have full confidence in our company and in the workers who are directly involved in this project, providing a quality and fast service that is very critical in this type of installation.
How has your work with the Covid-19 changed?
Incidents do not understand exceptional situations, they must be dealt with and solved effectively.
What has changed are the security measures, we try to maintain safety distances in the office and in the centers, we move individually to the customer's premises, we always use PPE (masks, gloves and gels) and we try to extreme personal and workplace hygiene measures.
Any special feature of your work that you would like to comment on
In answer to this question, we can tell you that there is no identical work routine. Every day is different and the situation can change unexpectedly at any time.